ruthenium- & palladium platings
---
Ruthenium and palladium are so-called platinum metals. They combine high electrochemical resistance (such as gold has) with great hardness and resistance to abrasion (such as chrome has).
Our palladium platings cannot be distinguished from nickel platings with the naked eye. In contrast to nickel, palladium generally does not cause allergic reactions.
Palladium is therefore suitable as a substitute for nickel.
Ruthenium can be used a decorative final plating or as a contact plating. As a final plating, ruthenium has a fascinating dark lustre.
It is therefore often used together with bicoloured gold for jewellery or fittings. In the field of technology, ruthenium platings are above all suitable where good electric conductivity is demanded along with resistance to abrasion.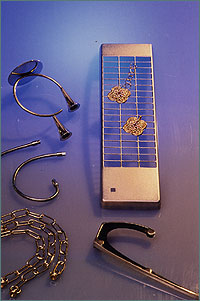 Some miscellaneous plated objects.
(We naturally do not want to withhold from you the usual photo that you will find in a fashion similar to this on the websites of our colleagues.)